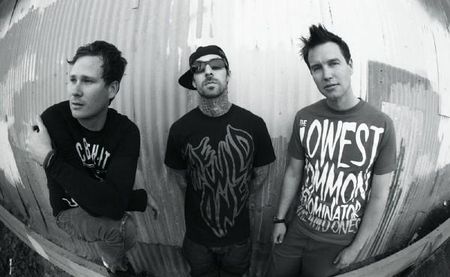 Blink 182 est de retour!
Hier je m'emballais un peu trop vite, ce n'était qu'une remise de prix. Donc ils auraient pu repartir chacun de leurx côter après la cérémomie, mais non! Eh oui BLINK 182 sont bien de retour, avec un nouvel album et une nouvelle tournée pour l'été 2009! L'annonce fut faite lors de la 51ème anniversaire des Grammy Awards où le groupe remettait le prix du meilleur groupe de rock. Travis dit "we have decide to play music together again" et Mark enchaine sur "Blink 182 is baaaack". Puis un nouveau site,nouveau merch et un new layaot pour myspace fut créée. Avec ce message:
"Hi. We're blink-182. This past week there've been a lot of questions about the current status of the band, and we wanted you to hear it straight from us. To put it simply, We're back. We mean, really back. Picking up where we left off and then some. In the studio writing and recording a new album. Preparing to tour the world yet again. Friendships reformed. 17 years deep in our legacy.


Summer 2009.


Thanks and get ready..."
Hâte de voir ce que tous ça va donner en espérant que le nouvel album ne ressemblera pas au dernier. Et en espérant les voirs à Paris. Bon déjà on sait que +44 est mis de côté mis AvA que vont-ils devenir? Comment les membre ont pris celà. C'est bizarre quand même de se séparer puis au bout de 4 ans se reformer, après avoir créer deux autres groupes moi je trouve ça moyen. Je sais pas c'est quand même louche. En plus on sent pas plus de cohésion qu'a la fin de Blink, Mark et Travis de leur côté et Tom de l'autre qui parle pas beaucoup c'est Mark et Travis qui parle! Pourtant ce sont eux qui en voulait à Tom et qui ne voulait plus le revoir, c'est vraiment bizarre. Mais bon on va prendre le bonheur qui nous arrive et ne pas le gacher! Voici la remise de prix avec Blink 182 réunifier à vous de juger :
Liens du groupe :
Site : http://www.blink182.com
Myspace : http://www.myspace.com/blink182
Purevolume : http://www.purevolume.com/blink182